March 11, 2014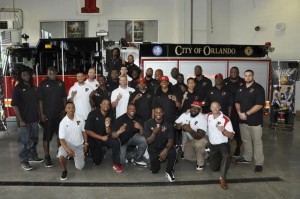 ORLANDO, FL – The Orlando Predators became the first professional Arena Football League team in America to become trained and certified in the critical skills of Cardiopulmonary Resuscitation (CPR) and how to use an Automated External Defibrillator (AED). The training was facilitated by the Orlando Fire Department at downtown Fire Station 1 on Monday, March 10. The training, which is part of the national emergency preparedness program, is known as ATHLETES FOR AMERICA.
Twenty-four (24) players in all received their CPR and AED certificates, but no player was more humbled about receiving their certificate then Predators offensive lineman Terrance Campbell. "I am honored that the Orlando Fire Department took the time to teach us these necessary skills, and I feel like every citizen in America should take these classes," said Campbell. "My daughter was born in October of 2013, and it is a great feeling to know that I now have the skills to help her in case of an emergency."
Predators Head Coach Rob Keefe also took part in the certification process with his team, and he was humbled by the day's events. "I was pleased to see our group of men embrace their civic duty so proudly. The Orlando Predators respect and honor all of the men and women firefighters in the great City of Orlando. Today was an important day in teaching our players how to save a life using CPR and AED's. We are proud to be taught by the best emergency professionals this country has to offer."
Fire Chief John Miller expressed his excitement at the new partnership between the Predators and the Orlando Fire Department. "Seeing these 24 professional athletes commit to learning these critical, life-saving skills is awesome. But they are willing to go beyond that. They want to encourage and help train others to learn these same skills. The number of lives that can be saved in the future, from this first step by the Predators, is endless. Together, we are making a difference."
ABOUT ORLANDO PREDATORS: The team plays in the Arena Football League among fourteen total teams in the AFL. The Predators are going into their 23rd season and have appeared in the playoffs 19 times and have gone on to play in the ArenaBowl seven times, winning the championship in 1998 and 2000.