September 2010
AFA Founder Billy McGehee with West Point Head Football Coach Rich Ellerson and General Ray Odierno,
former Commander of the United States Military Forces in Iraq at the Battle Monument at West Point on
September 10, 2010 to Launch the Athletes For America National Emergency Preparedness Tour.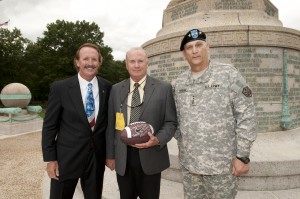 "In keeping with the demands on junior officers in our Army and our long-standing commitment to building leaders of character dedicated to selfless service, West Point requires all of its 4,500 cadets to be physically fit, to sharpen their athletic abilities "upon the fields of friendly strife," and to be trained extensively in emergency first aid. Along with the other vital skills of a leader in today's Army that we develop here at West Point, we believe that participation in high quality athletic competitions and first responder training make our graduates ready to react positively and constructively in times of an emergency. I strongly believe that every adult, in or out of the military, can be of greater benefit to society with the skills and values instilled by athletic competition and first aid training. It is my hope that other colleges and organizations join in this endeavor."
William E. Rapp
Brigadier General
US Army Commandant of Cadets
West Point